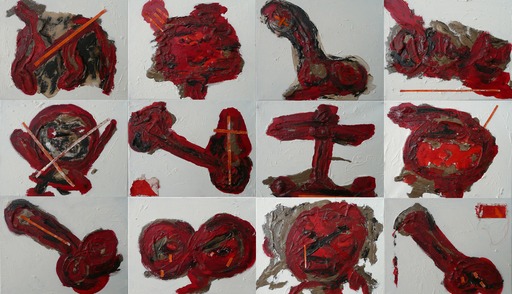 Introduction
Mrs. Marjo Sleiderink (born 1954) is a painter, who has chosen a contemporary position in the century old tradition of her professional identity. This choice is refelected in her technique and her connet. Her paintings and objects seem to be abstract, but they are defined by maybe biggest issue in the history of art: the eternal cyclus of life and death. Sleiderink wants to express living and dying, death and resurrection. She wants to emphasize the individual suffering, and link this to a transformation of the transient life (and suffering) in a dynamic and vital image. This image implies the acceptance of finiteness and suffering. Het work is like a mirror that reflects the vulnerability and brevity of body and nature (see for example her series Wounded landscapes).
Sleiderink uses the art of painting as a victory of the power that tells her story of her world. She creates a relation between the traditional images and meanings on one side and the complexity of contemporary life and the actualities that mass media present us on the other hand. Religious battles, violence of war, agression and natural disasters, but also sexual intrigues that recently came to publicity in the Netherlands are reflected in her work. Her work carries the scars of life.
Her experience of day and life makes her believe that there is more than what we perceive in daily life. Sleiderink is inspired by life and work of artists like Antonio Tapies, Lucio Fontana, Anselm Kiefer, Jean Fautrier, Cy Twombly and Arnulf Rainer and also by the poet Juan de la Cruz (16th century). Do we exist from time to time in diferent layers? And if that is true, where are the boundaries of the reality we believe there are?
The layers of existence intensely come to expression. The painter cuts her linnen and canvas open, than sews and sticks it again to closure. She sticks small tissues on canvas and overpaints existing images. She cuts, crashes or operates upon her paintings to reach the intended layerness. The movement of her brush and the creation of patterns are thrills of energy and expression, the painting colors are often like deepdark coagulated blood.The intensity of her paintings, wet-in-wet and layer after layer creates an almost physical relation between subject and conclusive image. The cycle of life and death continues in the paintings. Death material comes to life in her images.
USE OF MATERIAL
Material always is important in Marjo Sleiderink's work. In her recent work it is used in a very concrete manner to find her way to go on, a road that leaves many traces. It is a voyage without a map, a journey without a plan like a wandering child. A trip from eye to hand. Each painting is a stop or a moment of silence in an unexpected world with visual and tactile remnants of a painted experience. These worlds invite us to participate in trips to that undefined area between hand and eye, that finds its constituation in changing materials like paintingcolors, bitumen and fibres.
(vertaling François Dumoulin, zondag 22 april 2012)